4
Feb
By Suzanne Corey:
Co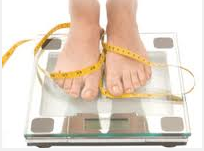 ntrolling your weight is an important aspect in the prevention and treatment of heart disease. But for many, it's hard to choose the salad bar at work or remember your raw veggies during the cold winter months.
Instead of indulging in fatty comfort foods, try these three, warm heart healthy recipes to get you through a day of excellent nutrition.
Heart Healthy Amish Baked Oatmeal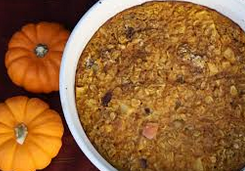 "Try starting your day off with a warm bowl of baked oatmeal that is full of protein, omega 3 fatty acids, and B vitamins," says Abby Wadsworth of Burlington, Vermont-based Whole Health Nutrition.
Oats are naturally high in fiber and contain a specific type known as beta-glucans, Wadsworth says.
"Consuming just 3 grams of soluble oat fiber per day (an amount found in one bowl of oatmeal) typically lowers total cholesterol by 8 to 23 percent," Wadsworth says.

Ingredients
6 cups oats

4 eggs

1/2 cups coconut oil, melted

2 cups milk (dairy, almond or soy)

1/2 cup maple syrup

1 1/2 teaspoon salt

1 1/2 teaspoon baking powder

1 1/2 teaspoon cinnamon
Preheat oven to 350 degrees F and grease a 9- by 9-inch pan with coconut oil. Mix all ingredients in a large bowl and transfer into a prepared pan. Bake for 45 minutes or until firm. Cool for 5 to 10 minutes before serving. Top with chia seeds, ground flax seeds, walnuts, milk and raisins. Reheat individual portions as desired.
"If you're looking for more omega 3s, try omitting the eggs and adding in flax seeds," Wadsworth says.
To replace one egg, mix 1 tablespoon ground flaxseeds with 3 tablespoons water (or other liquid) and stir together until thick and gelatinous.
Heart Healthy Roasted Eggplant and Heirloom Tomatoes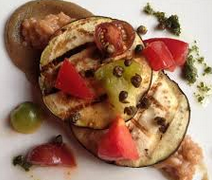 "As registered dietitians, we often recommend that half of your plate be comprised of vegetables as part of a heart healthy diet," says licensed dietitian and certified diabetes educator Patty Berry of Texas Nutrition Consultants in Austin, Texas.
Berry created the following easy and delicious recipe to help meet that goal on cold winter days when a salad may lack appeal.  The dish is rich in vitamins, minerals and fiber and uses heart healthy monounsaturated fat in the form of olive oil, Berry says.
Ingredients
1 medium eggplant

4 heirloom tomatoes

2 tablespoons garlic infused olive oil

2 teaspoons Italian seasoning
Preheat oven to 400 degrees F. In a large bowl, gently toss all ingredients. Spread the vegetables onto a baking sheet. Bake until tender, about 20 minutes.
Heart Healthy Swiss Chard and Chicken Sausage
As a nutritionist, registered dietitian and mom, Kyle Bunton of Ann Arbor Nutrition says her goal is to provide healthy food that tastes good too.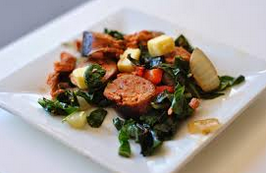 "My family loves this recipe, which uses Swiss chard as it grows easily in the summer and is plentiful in the fall and winter months," Berry says.
Swiss Chard comes in many colors and varieties to add delicious taste to this dish. Chard is rich in natural nutrients that promotes good health and disease prevention as well as being low in calories, Berry says.
More: Which Are the Best Leafy Greens?
"It is rich in minerals like copper, calcium, sodium, potassium, iron, manganese and phosphorus," Berry says. "Potassium plays an important role in the control of blood pressure. Regular intake of chard has been found to prevent osteoporosis, iron-deficiency anemia, and is believed to be a heart healthy food by protecting the heart from cardiovascular disease."
Ingredients
1 tablespoon olive oil

Large bunch of cleaned and chopped Swiss chard

1 large onion sliced

12 ounces of sliced mushrooms

4 to 6 small fingerling or redskin potatoes

2 to 4 medium size chicken and maple flavored sausages

1 to 2 cloves of garlic, minced

Low fat/sodium chicken or vegetable stock

Nutmeg

Black pepper
Set a large non-stick skillet on medium heat. Add the olive oil, mushrooms, potatoes, sausage and garlic. Saut? until the potatoes are tender and slightly browned. Add the Swiss chard and broth and cover. Cook until just tender to prevent it from becoming bitter. Before serving flavor with the black pepper and nutmeg.
Option: In place of the sausage and potatoes, add a 14-ounce can of drained white beans.
About The Author
Suzanne Corey is a journalist and athlete. She competes in events around the country, including a marathon in Hawaii, a sprint triathlon in California, a rockin' half-marathon in Tennessee, and a century ride through Vermont and New Hampshire. When she's not training, Suzanne is raising two daughters and dreaming of a half-ironman. She has a bachelor's degree in journalism from the University of Missouri-Columbia.