Nishiki is one of the Japanese bicycle makers that failed to gain the recognition of other top tier makers of high quality bikes. Yet, they were the first Japanese company to introduce a quality bike that rivaled the better known European marques. They were also the first Japanese maker to offer to America a top quality handcrafted frameset to rival Masi, Colnago, and others. After extensive research and testing, Nishiki introduced their special order only frameset in the mid-'70s—the Nishiki Pro O.N.P. (Order Nishiki Pro).
Nishiki Special Frameset
In 1974 Kawamura decided to produce framesets in their factory that would rival the finest frames manufactured anywhere in the world. They equipped a special section of their factory especially for the purpose of building handcrafted framesets. Eight of Japan's finest bicycle craftsmen were hired to begin work on the new special-order-only framesets—the Nishiki Pro O.N.P. To quote a 1976 Bicycling Magazine article reviewing the O.N.P. frameset, "they built, tested, rebuilt, sent to the United States, tested, sent back, rebuilt, retested, etc., consulted with makers all over the world, and finally settled on a final design for the Pro frame." In the end, there were two types of O.N.P. framesets: one made with 0.8-0.5-0.8 double-butted Tange Champion tubing, and one made with thinner 0.6-0.3-0.6 tubing. Depending upon the geometry, some were more suited for road racing and some were for criterium racing.
  Nishiki ONP: "Perfect as you can get"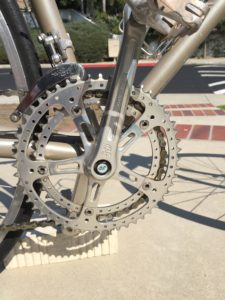 After an extensive review of the Nishiki Pro frameset, which included riding a full double century on the Pro, the author of the August 1976 Bicycling Magazine article wrote, " . . . the Nishiki Pro is just about as close to perfect as you can get."