17
Mar
Buying A Used Bicycle: Cycling tips 09
You've decided to start riding a bike.  When starting a new sport it's a good idea to start with used equipment.  You may decide after participating for a while that you don't want to continue, and spending thousands of dollars would not be cost effective. Purchasing a used bike, in good condition is normally the best way to start.  For the newbie who knows very little about bikes but still considering purchasing one online, from a yard sale, or even from the neighborhood bike shop, here is a break down as to what to look for and what to avoid.
Brand Names: Cycling Tips 09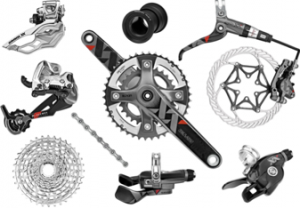 The main advantage of buying a well known brand is that components and parts are much easier to come by. Having said that, check the components and make sure they are one of the top name brands, for example, Shimano. All bike shops should be able to work on these components so, maintenance and repairs will not be a problem. Components or parts that are rare or specialized will mean repair times will be longer than normal. If you are planning any long distance riding or bringing your bike on a trip, parts will be easy to work on and order if necessary.
Check the tires for wear or cracking. This is not a deal breaker, since they are relatively inexpensive and easy to replace. Just keep it in mind when the time comes to make an offer.
The Frame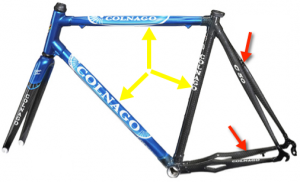 As we pointed out, the components should be made by a reliable company. The maker of the frame, however, might not be as important as the condition of the frame itself. Normally, the paint and rust are nothing to worry about except if certain areas are rusted through. Look for any dents, bends, cracks, or welds on the frame. All these flaws can compromise the integrity of the frame and render it unsafe to ride. If the main triangle (yellow arrows) and rear stays (red arrows) of the frame are good but you notice any of these conditions just on the fork, ask for a considerable discount and replace the fork before you ride it. If you are new to riding, I would suggest avoiding it all together.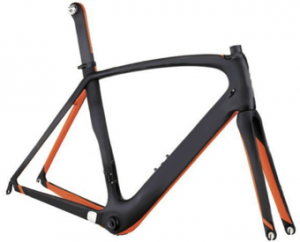 Carbon frames can be tricky. Ask if the frame has been repaired and have them show you exactly where on the frame the repair work was performed. Some manufacturers claim they can fix them like new. However, hairline cracks inside the frame cannot be seen. They cannot be detected unless the frame is cut in half, which is obviously counter intuitive. Most carbon frames should be discarded if crashed.
Buying From A Bike Shop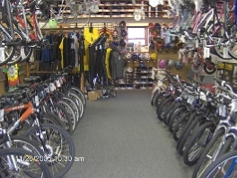 It may be cheaper buying a used bike from the guy down the street or online, however, buying from the traditional bike shop has a lot going for it as well.  If you have a shop that hopefully knows what they are doing, they can usually properly fit and adjust the bike to you right then and there.  Some of the other advantages are:
* They can evaluate what type of bike is best for you.
* The bike should be tuned and ready to go.
* The possibility that it may come with a warranty.
* Easier to test ride the bike before you purchase.
* The shop can also service the bike, since they know it.
* Selection
Have A Bike Shop Check It Out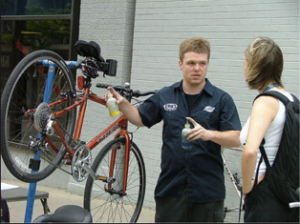 If you do buy online, from the guy down the street, or your new to cycling, ask if you can have a local shop evaluate the bike. Mechanics can not only check for any potential safety concerns but can also let you know if any parts are going to need immediate attention or when you might expect repairs or service down the road.

Hope this helps. Keep safe out there and make sure drivers can see you.